08.10.2023
|
News
AFEELA Brings Its Bold Vision to Qualcomm's Global Headquarters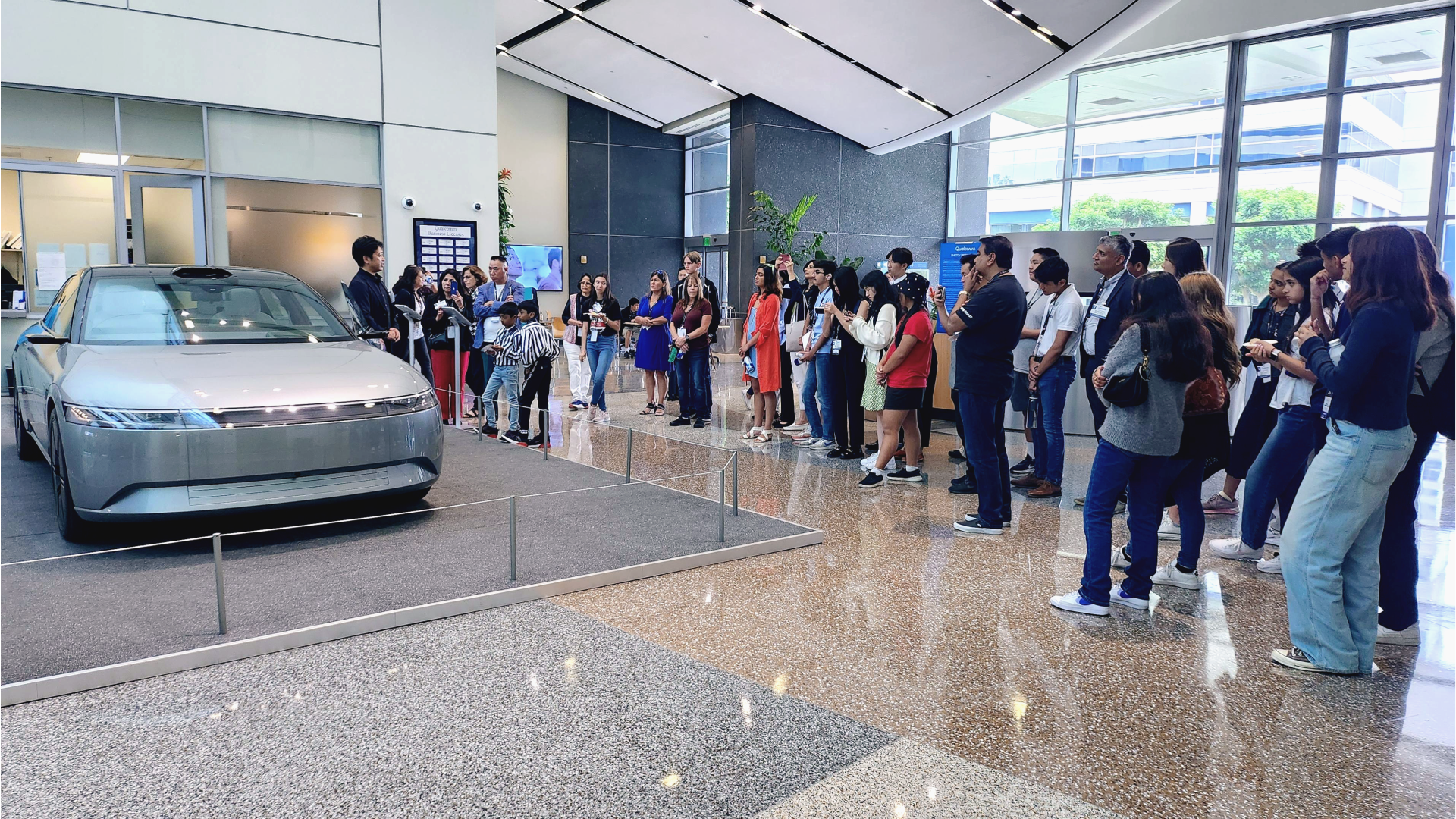 San Diego, California – In January, at CES 2023, Sony Honda Mobility unveiled our new brand, AFEELA. Six months later, on June 21, AFEELA team visited the global headquarters of Qualcomm Technologies, Inc. to host an event, "AFEELA | Experience at Qualcomm" for Qualcomm employees. The purpose of this event was to engage in discussions with their engineers regarding AFEELA's current progress and future plans, with the goal of accelerating collaboration. The most important thing was to evangelize the experience of AFEELA through the implementation of the demonstration." This report provides an overview of the event.
At this event, Qualcomm employees got to see the results of two companies coming together. Upon entering Qualcomm's massive lobby, Qualcomm employees gathered around the AFEELA Prototype, seeing it for the first time in-person. They got into the car and experienced all the demonstrations, including in-cabin UX, with particular attention given to the Media Bar and In-Vehicle Infotainment. Many looked on, while others engaged in on-the-spot discussions. Workers at the tech giant took turns taking pictures and checking out the interior, while panel discussions about the collaboration were held in an adjoining theater.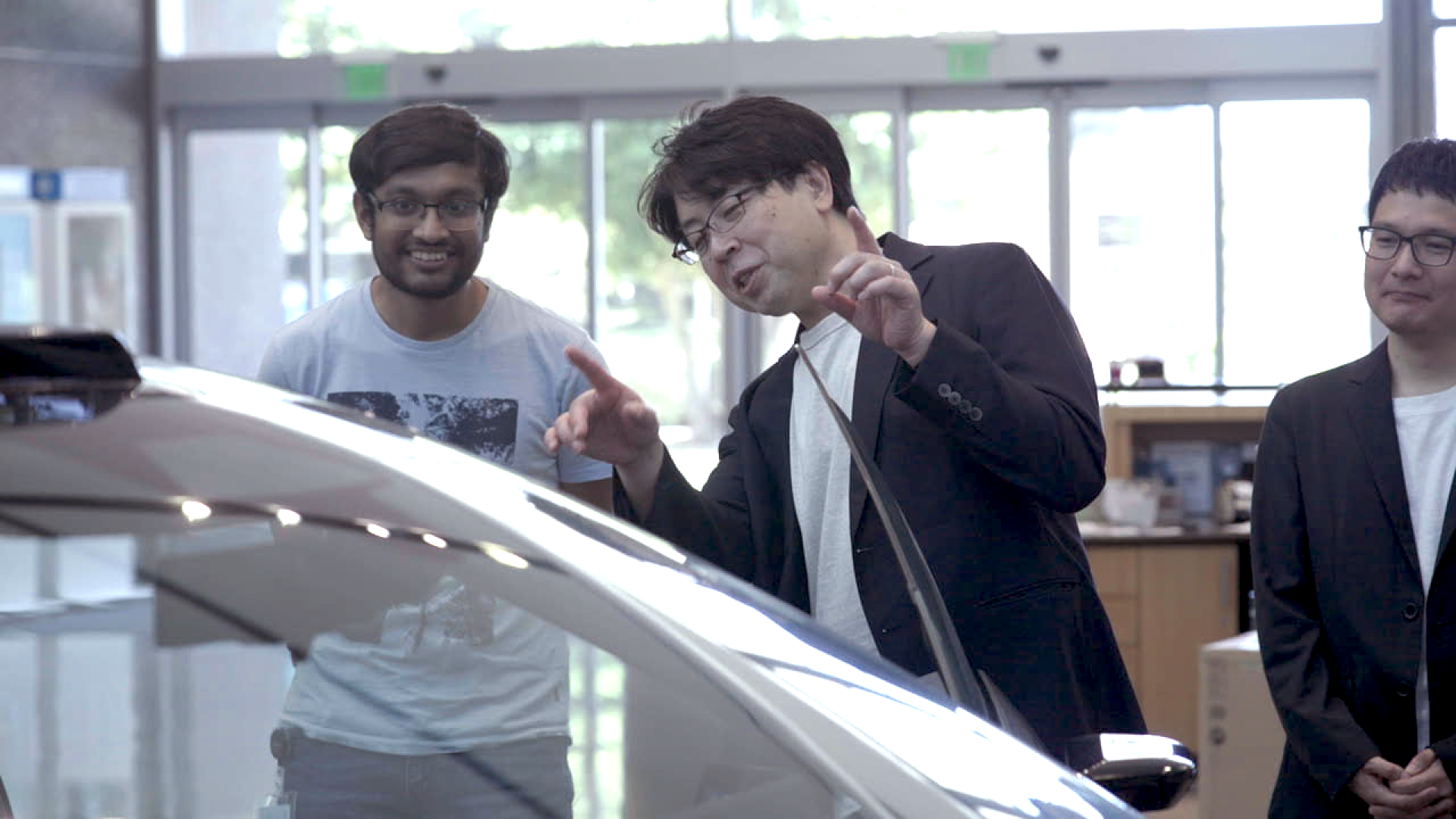 The Significance of our Qualcomm Partnership
Not since the inception of the automobile has there been such transformation in the industry. There is much involved, including the global transition from gas to electric vehicles, sustainability, shared transport and connectivity for safety, entertainment and artificial intelligence. For all involved with AFEELA, there is a feeling of an immense opportunity in the automotive space.
We firmly believe that our partnership with Qualcomm Technologies will accelerate the transformation of the mobility experience. Our prototype is equipped with a total of 45 cameras and sensors both inside and outside, together with 800 TOPS of maximum computing power for the ECU by utilizing SoCs from Qualcomm Technologies' Snapdragon® Digital Chassis™. The collective solution delivers customizable, safe and secure mobility experiences. We aim to achieve the world's highest-level AD/ADAS by combining Sony's sensor technology, Honda's safety technology, and many intelligent technologies. We are aiming to develop level 3 autonomous driving optimized for specific conditions, as well as driving assistance features such as level 2+ autonomy for urban and other wide range of conditions.
So, what is the future of AFEELA? What will it look like in the real world? One thing already known is that we'd like to form ourselves as something truly new type of automaker by bringing software to the forefront of every future mobility experience. Software skills will soon be as important to automakers as mechanical ingenuity. At CES, we conveyed the message of revolutionizing through collaboration and software-centric cutting-edge technology.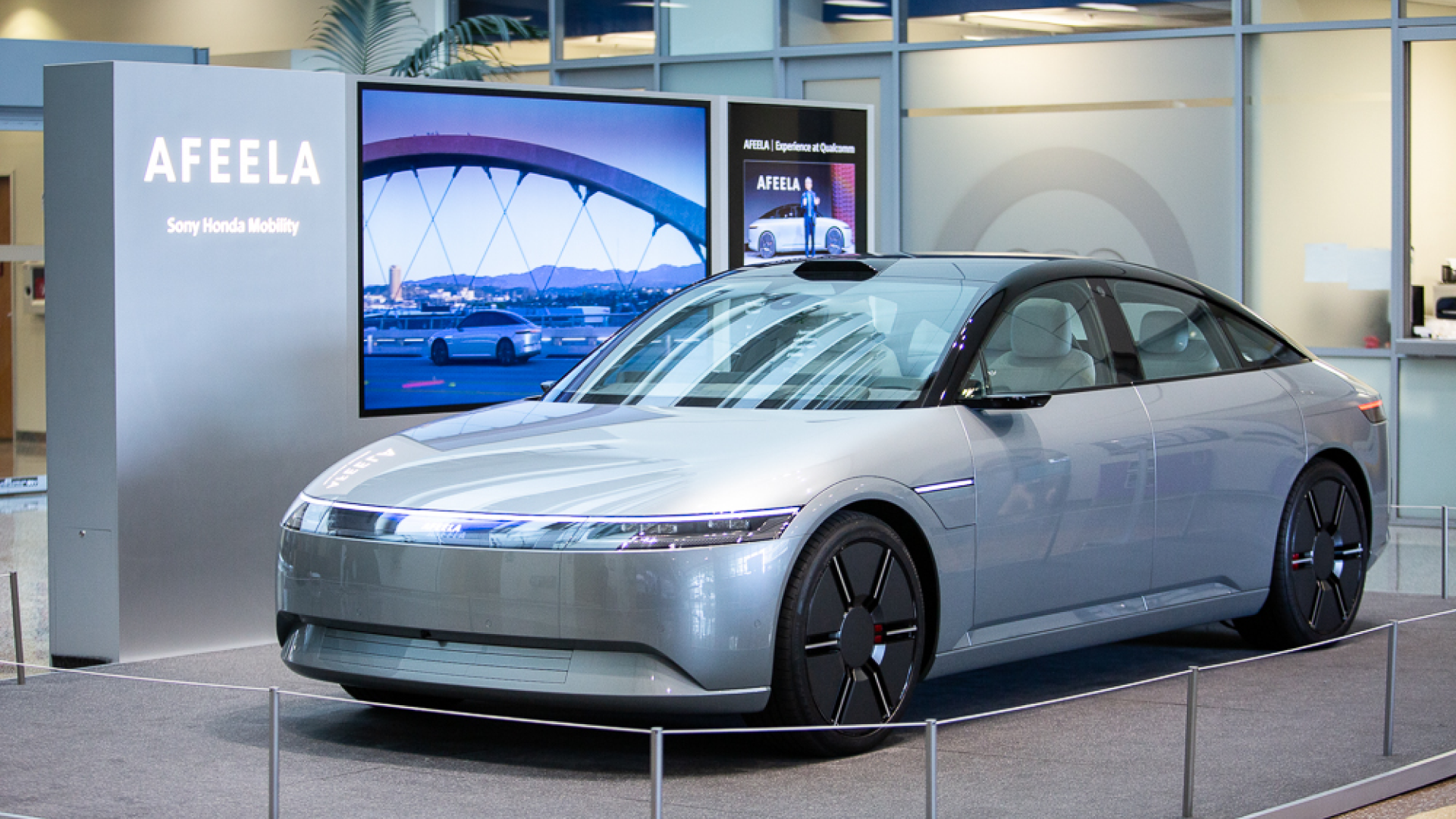 Qualcomm Technologies' Automotive Leader
Present at the event and directing Qualcomm Technologies' efforts for AFEELA is Nakul Duggal, Senior Vice President & General Manager, Automotive & Cloud Computing, Qualcomm Technologies, Inc. Duggal and his team have led Qualcomm Technologies' automotive product and business strategy since its inception in 2011, creating and continuously enhancing the Snapdragon Digital Chassis. Over his career, Duggal has held several engineering and management positions in the development and commercialization of Qualcomm's wireless and application processor technologies for numerous business segments. He is extremely enthusiastic about the new strategic partnership.
"We discussed what we were doing, then all of that came together in the last 12 months with the announcement at CES," says Duggal. "I think it's fascinating in that manifesting these types of ambitious projects requires a very well-thought-out plan with the right partners, with the right balance and complement, which was Honda and Sony. Building a product that customers will enjoy, that customers will be delighted to see has been fantastic for us to see come alive and be part of."
As for the future of mobility, Duggal makes some predictions: Self-aware cars; vehicles with internet connectivity, that go beyond entertainment by providing data, insight and security; subscription-based ride share and car share services. "There is so much change going on," he says. "It started with electrification. Every car company is working very hard to become a technology company. The car is now a device, a new product which offers both living space and mobility. The consumer is going to benefit immensely because a lot of innovation is going to be brought on quickly, to platforms that are traditionally slow to move."
Deeper Discussions Post CES
At the event, there were two noteworthy sessions. One was a presentation by Takuya Nishibayashi, who oversees the development of AFEELA's E&E architecture. In addition to discussing our technological advancements, Nishibayashi emphasized the philosophy of "mobilizing people" and "evolving mobility," highlighting the partnerships essential for its realization. He candidly addressed the challenges that have emerged during in-depth discussions and directly engaged with Qualcomm employees. The other was a group discussion about AFEELA's ambitious scope.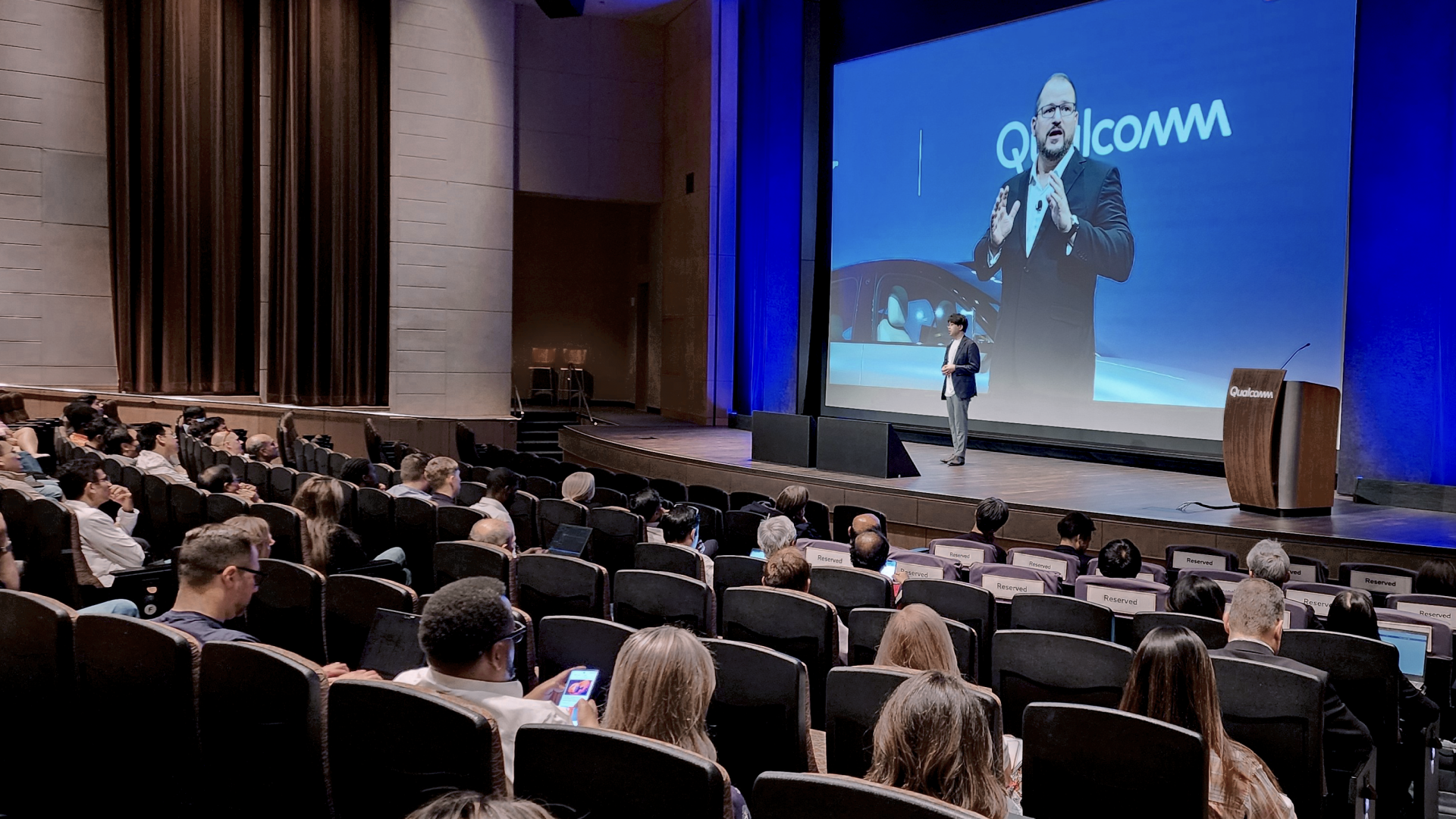 The midday 'Experience at Qualcomm Auto Panel' discussion, made up of three participants each from Sony Honda Mobility and Qualcomm Technologies, reminded us that such an advanced car does not just materialize out of thin air. Hundreds of thousands of man hours go into engineering and project management for AFEELA's hardware, software and integrated systems. Everyone involved was involved in engineering or product management. Promotional videos were shown, highlighting the car as an extension of the person.
Moderated by Qualcomm Technologies' Senior Director of Product Marketing, Michele Gantt, the diverse panel seemed more akin to a reunion of old friends. Both sides thanked each other for their great input and support thus far. They discussed the immense promise of working together, from entertainment to the fusion of safety sensors, wireless connections to battery consumption, navigation to driver autonomy; paths to seamlessly transition the outside world into the interior of the car; and how AFEELA represents a new benchmark in mobility, a software defined vehicle with its own unique but customizable space. Qualcomm is no stranger to either Sony or Honda, having provided chips, then SoCs (System on a Chip) to both companies almost since its inception.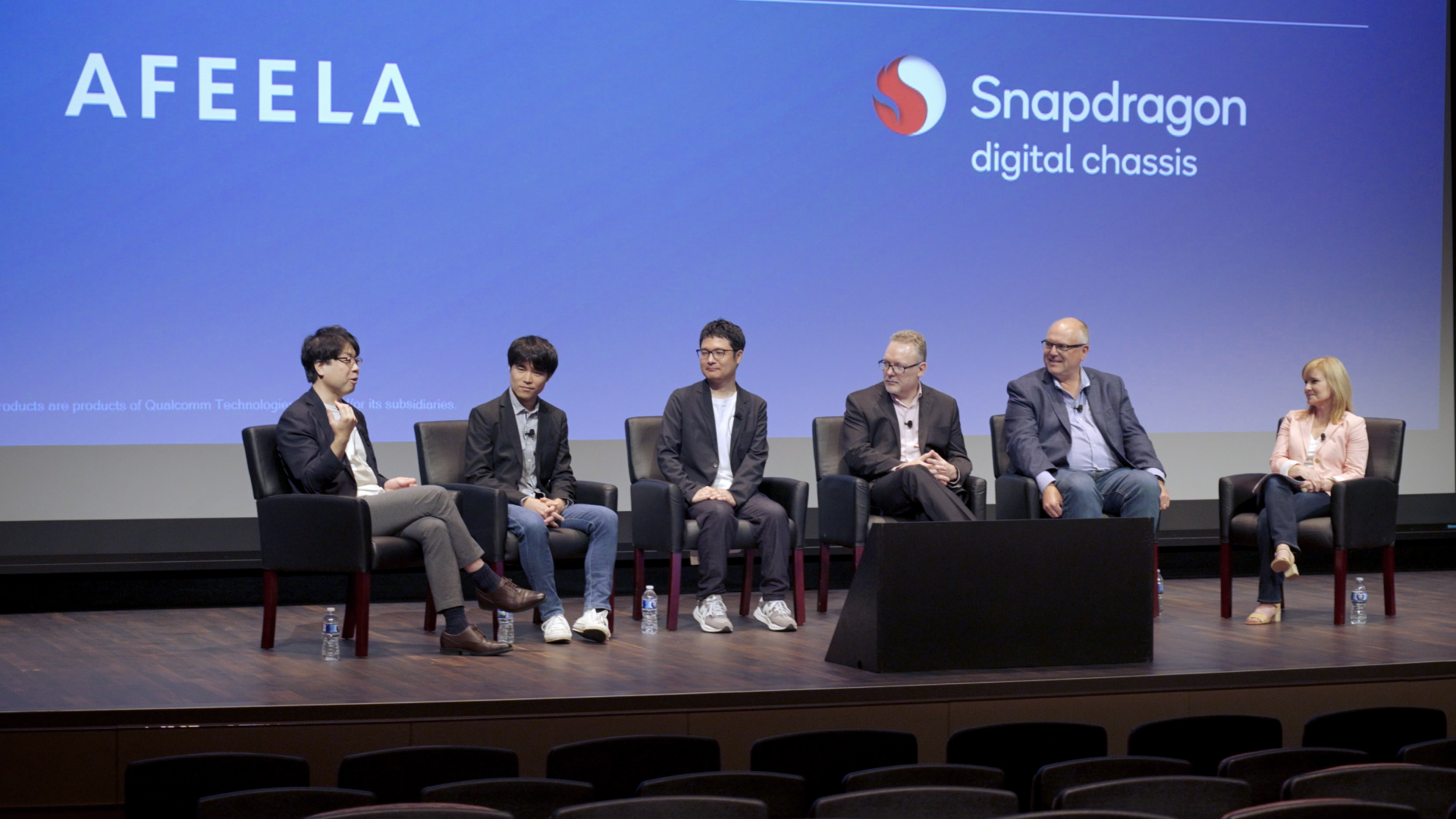 All agreed that AFEELA goes beyond being a car. It's really about creating a safe, digital space. The panel discussed AFEELA's 45 cameras/sensors. They all agreed that close collaboration on this project results in better experiences for the consumer. One key tenant reviewed was ensuring that enough headroom is built into the system to support future applications. Some things are still being decided, i.e., what audio and video platforms make the cut, the total integration of safety systems and as one engineer humorously put it, "how to incorporate all the new things." Wrapping up the discussion were comments on the ambitious scope of bringing AFEELA to life.
One panelist concluded the discussion with this thought, "New entity. Old friends. Bold vision."
Sony Honda Mobility is expecting to take pre-orders for AFEELA beginning in the first half of 2025, sales by the end of 2025, and delivery from spring 2026 in North America. Our "AFEELA | Experience at Qualcomm" will serve as a foundation for the future experiences we provide.